Cannolis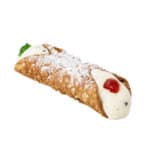 Sicilian
Ricotta chocolate chip filling in a fried cannoli shell, topped with candied cherries
$3.99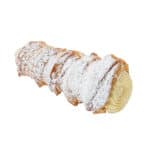 Sfoglio
Custard cream filled in a baked flaky cannoli shell
$3.99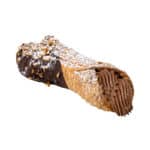 Hazelnut
Hazelnut custard filling in a fried cannoli shell, half dipped in chocolate and topped with hazelnuts
$3.99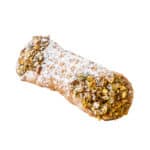 Pistachio
Pistachio custard filling in a fried cannoli shell, topped with crushed pistachios
$3.99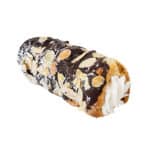 Whip Cream Horn
Whipped cream filled in baked flaky cannoli shell dipped in chocolate and topped with almonds
$3.99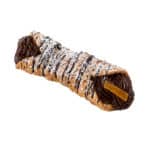 Chocolate Orange (seasonal)
Chocolate Orange custard filling in a fried cannoli shell, topped off with dried oranges
$3.99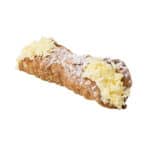 Lemon (seasonal)
Lemon ricotta filling in a fried cannoli shell, topped off with chocolate curls
$3.99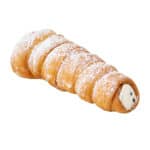 Cartucci
Ricotta chocolate chip filling in a fried donut shell
$3.99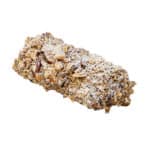 Gardoni
Custard filling in a baked shell dipped in caramel and rolled in mixed nuts
$3.99
Large Pastries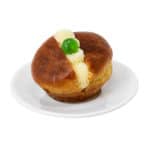 Rum Baba
Soft baked pastry sponge soaked in a boiled rum mixture filled with custard and topped with candied cherries
$3.99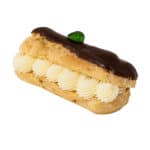 Italian Eclair
Baked eclair shell dipped in chocolate filled with italian custard topped with candied cherries
$3.99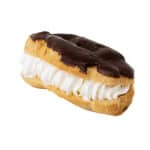 Whip Cream Eclair
Baked eclair shell dipped in chocolate filled with whip cream
$3.99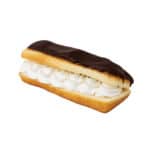 Whip Cream Long John
Fried donut shell dipped in chocolate filled with whip cream
$3.50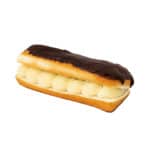 Custard Long John
Fried donut shell dipped in chocolate and filled with custard
$3.50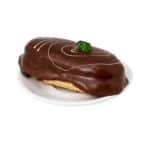 Chocolate Sospiri
Soft pastry soaked in rum syrup, filled with custard and dipped in chocolate, topped with a candied cherry
$3.99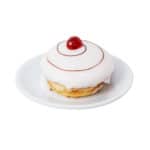 Vanilla Sospiri
Soft pastry soaked in rum syrup, filled with custard and dipped in white chocolate, topped with a candied cherry
$3.99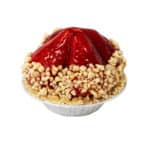 Strawberry Tart
Shortbread shell, filled with whipped cream and strawberries on top, dipped in a strawberry glaze and vanilla crumbs
$3.99
Mouses
Chocolate Vanilla Mousse Cup
Dark chocolate and vanilla mousse layered with chocolate sponge and dulce de leche in a chocolate tulip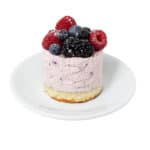 Mixed Berry Mini Mousse
A layer of vanilla sponge filled with mixed blueberry, raspberry and strawberry mousse, decorated with fresh mixed berries *can contain blackberry*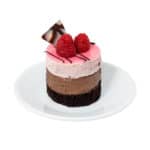 Chocolate Raspberry Mini Mousse
A layer of chocolate sponge filled with a layer of chocolate mousse and a layer of raspberry mousse, decorated with ganache, fresh raspberries and chocolate garnish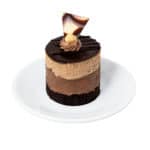 Chocolate Hazelnut Mini Mousse
A layer of chocolate sponge filled with a layer of chocolate mousse and a layer of hazelnut mousse, decorated with ganache, whole hazelnuts and chocolate garnish
Cupcakes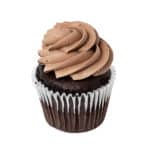 Chocolate
Chocolate or vanilla cupcake topped with chocolate buttercream.
$3.75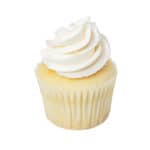 Vanilla
Chocolate or vanilla cupcake topped with vanilla buttercream.
$3.75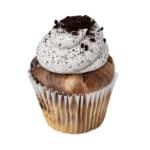 Oreo
Chocolate, vanilla or marble cupcake topped with oreo buttercream
$3.75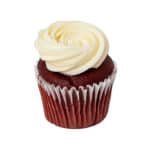 Red Velvet
Redvelvet cupcake topped with cream cheese frosting
$3.75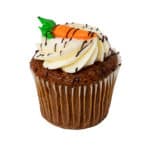 Carrot
Carrot cupcake topped with cream cheese frosting
$3.75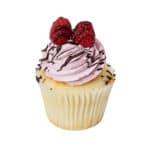 Raspberry BC
Chocolate or vanilla cupcake topped with raspberry buttercream
$3.75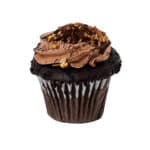 Nutella
Chocolate or vanilla cupcake topped with nutella buttercream
$3.75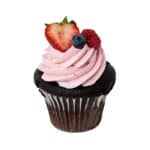 Mixed Berry
Chocolate or vanilla cupcake topped with a mixed berry buttercream
$3.75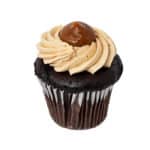 Dulce de Leche
Chocolate or Vanilla cupcake topped with dulce de leche buttercream
$3.75
Other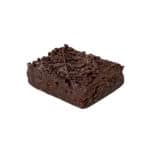 Chocolate Chip Brownies
Chocolate brownie, topped with chocolate fudge and chocolate chips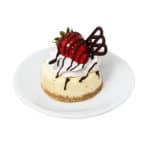 Mini Strawberry Cheesecake
3" round New York style cheesecake topped with whipped cream and a glazed strawberry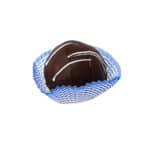 Rum Balls
Chocolate cake and rum syrup, dipped in chocolate
0.75/each, 6 for $2.99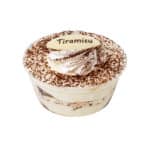 Tiramisu
Ladyfingers soaked in espresso and Khaula, layered with mascarpone filling and chocolate shavings
Cake Slices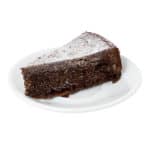 Caprese Tart
Chocolate tart made with almond & wheat flour
$3.50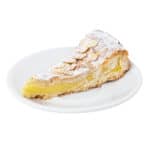 Torta Della Nonna
Lemon custard tart topped with almonds
$3.50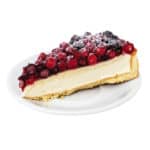 Frutti Di Bosco (slices)
Tart filled with chantilly cream and topped with mixed berries
$3.50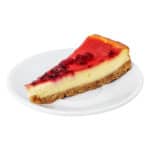 Current Cheesecake
Traditional cheesecake topped with current jam
$3.50
Ricotta Chocolate Chip
Ricotta and chocolate chip cake slice with cannoli crumb
$3.50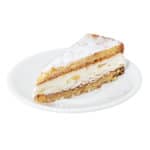 Pear Ricotta
Pear ricotta filling sandwiched between crust
$3.50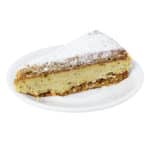 Pistachio Ricotta
Pistachio ricotta filling sandwiched between pistachio crust
$3.50
La Rocca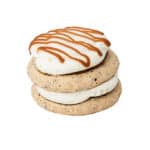 Mini Caramel Crunch
Pecan meringue with caramel and cream filling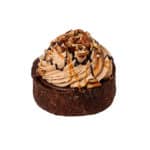 Turtle Tart
Chocolate shortbread shell topped with chocolate cream, caramel and pecans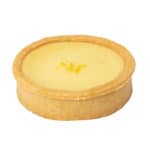 Lemon Tart
Shortbread shell filled with lemon curd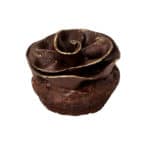 Baby Truffle
Flourless chocolate cake topped with chocolate ruffle and gold dust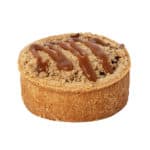 Apple Caramel Tart
Baked custard and fresh apples in tart shell topped with caramel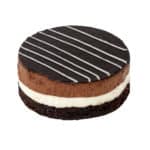 Mini Truffle Royale
Chocolate sponge with layers of chocolate and white chocolate truffle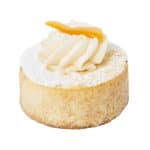 Orange Ricotta
Fresh ricotta cheesecake with graham crust topped with candied orange peel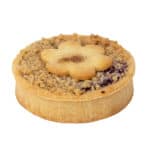 Blueberry Harvest tart
Strawberry, blueberry, apple and rhubarb filling in a tart shell.
Brownies
Blondie
Toffee crunch chocolate chip bar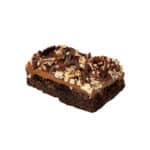 Turtle
Chocolate brownie layered with caramel drizzled chocolate and crushed pecans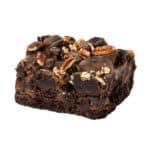 Rockslide
Chocolate fudge brownie with brownie chunks caramel and pecans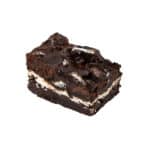 Oreo
Chocolate oreo brownie with vanilla oreo filling and topped with crushed oreos.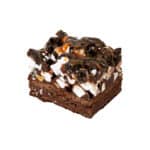 Marshmallow
Chocolate brownie with layered mini marshmallows and caramel drizzle
Cookies
Shortbread
Fresh shortbread cookies: plain, dipped chocolate, topped with candied cherries and jam filled dipped in chocolate.
Almond
Almond paste amaretti traditional italian cookies: Heart shaped, pink and green, green and white, white with candied cherries, sliced almond dipped in chocolate, mushroom chocolate.
Hazelnut
Halfmoon powdered sugar, or chocolate dipped
Seasonal Shortbread
Traditional Sugar shortbread cookies are made every season and decorated to theme that occasion. Eg. During Christmas some cookies are shaped as stars, angels, snowflakes etc.
Peaches
Peach cookies come in flavours of Chocolate, Lemon or Custard
Coconut Macarons
Baked shredded coconut macaroons dipped in chocolate